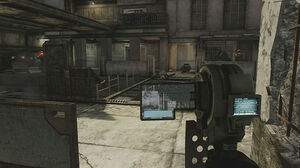 The Engineer's Repairing Device was designed specifically for military applications. It is the ISA version of the extremely popular Libertà Engineering Tool, and is ideal for repairing ammo boxes, emplaced machine guns, and sentry turrets. Its rugged frame renders it impervious to vacuums, high-pressure environments, corrosion, and even extreme temperatures. The Engineering Tool is available to engineers across the galaxy, from local ISA chapters to the UCA Navy, and is manufactured in Mattic Foundries for the highest materials quality.
In Multiplayer, this device lets you repair broken turrets and ammo boxes, and is the Engineer's secondary badge. It isn't able to hurt enemies (unlike the Medic's Reviving Device), but it doesn't have to reload after every usage.
Voted "Best Engineering Tool of the Year" by the Procyon Miners Guild (2353)
Three-time UCA Navy field trials winner (2352, 2353 and 2354)
Used by selected civilian clients, including the Altair Manufacturers Association, the Delta Pavonis Department of Civil Engineering, Gram Aerospace, the Groombridge Guild of Spacing Engineers, and the Procyon Miners Guild.