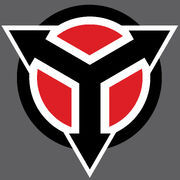 The Helghast Triad is the symbol of the Helghan Empire. It was co-opted from the original logo of the Helghan Administration.
Symbolism
Edit
The original Triad of the Helghan Administration was three interlocking arms representing Peace, Justice and Freedom. Scolar Visari replaced the old banner with a simpler, starker and more dynamic logo showing three arrows representing the Helghast virtues of Duty, Obedience and Loyalty:
1. The Duty every Helghast has to dream of a free Helghan.
2. The Obedience that every Helghast must show if all are to survive.
3. The Loyalty every Helghast should have for their People.